I bydelen Nye ved Elev, nord for Aarhus, har Cj Group opført byggeriet "Svinget" som rummer 62 boliger, et fælleshus samt en butiksenhed til købmandsbutikken i bydelen. Fællesnævneren for hele bydelen, er bæredygtige principper og den overordnede arkitektoniske vision er, at kombinere det bedste fra den tætte midtby med det bedste fra forstaden. NYE skal både være grøn og have et aktivt byliv, og rummene imellem bygningerne er særligt i fokus i helhedsplanen.
Byggeriet langs den bygaden tager udgangspunkt i grundstykkets buede form og fordelagtige beliggenhed på en sydvendt skråning, til at skabe en elegant opadstigende bebyggelsesrække, som rejser sig fra 3 etager mod øst til 5 etager mod vest og understreger landskabets former. Den udfordrende skrånende grund, har også givet mulighed for at lave parterrelejligheder i 2 etager i de nederste niveauer af bebyggelsen.
Sammen med nabobebyggelsen "Sneglehusene", udformet af arkitektfirmaet BIG, – som Cj Group også var totalentreprenør på, danner planen en spiralformet bevægelse ind imod en fælles offentlig "blå plads" som udgør en rekreativ del af områdets regnvandshåndtering.
De enkle, rektangulære bygningskroppe langs bygaden er roteret let i forhold til hinanden så der skabes fremspringende hjørner hvor boligerne kan få kig og dagslys på langs af bebyggelsen, og hvor fælles indgange er placeret helt naturligt og lette at finde.
Boligerne i et eller to plan er alle gennemlyste, og har adgang til udeophold som haver, altaner og/eller tagterrasser med grønne bede. De sydvendte altaner giver lys og luft til lejlighederne samt udsigt over Egå Engsø og Aarhus Bugt, og fungerer samtidigt som solafskærmning for boligerne.
Bebyggelsen er opført i rød teglfacade, med fladt tagpap og træ/alu vinduer.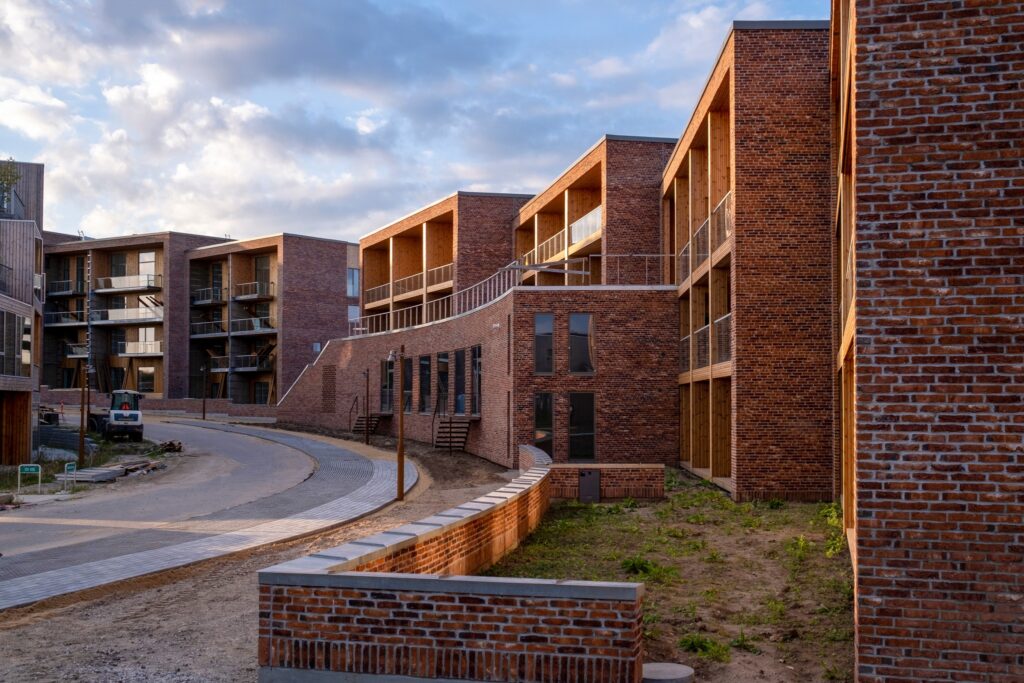 Cj Group' s ydelser på projektet:
Budgetansvar | PSS- og arbejdsmiljøkoordinering | Projekt- og byggeledelse | Kvalitetssikring og D&V

Cj Group har været tidlig involveret som entreprenørpartner på Svinget. Fra idéoplægget og gennem alle projekteringsfaser, har vi varetaget det økonomiske ansvar for projektet. Med udgangspunkt i bygherrens overordnede budget har Cj Group i rollen som totalentreprenør, styret projektet gennem projekteringsfaserne i samarbejde med rådgiverteamet, inden for bygherrens budgetrammer.

En proces og et samarbejde, hvor alle parter bidrager med kompetencer og sparring frem mod realisering af et projekt, som i fællesskab løbende er optimeret æstetisk, kvalitetsmæssigt og økonomisk. Teamets fælles målsætning har været at skabe det bedst mulige projekt inden for de givne rammer. Ved tidligt i projektet at inddrage totalentreprenørens kompetencer i særdeleshed omkring økonomi og processer, optimeres projektet i alle henseender, så bygherren får størst mulig værdi for pengene.